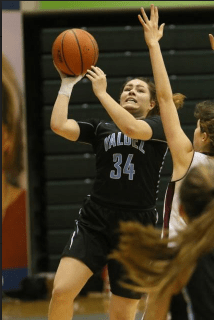 Senior Tori Franciosi played her last game at the State Tournament
The VHS Varsity Girls basketball team competed in the 3A state basketball tournament last weekend in Anchorage. The Lady Bucs came into the tournament as the 7th overall seed for the tournament.
On Thursday the girls had their first game for the tournament against the Sitka Wolves. This proved to be a difficult matchup for Valdez. In the first quarter the Lady Bucs were outscored 27-4. Valdez wasn't able to find a way around the Sitka defense which held them to single digit scoring for the remaining three quarters. The girls ended up losing 78-22. CLICK HERE for full game stats. With that loss Valdez then looked for a 4th place finish for the tournament.
On Friday, Valdez had to beat Grace Christian to earn a spot in the 4th place game. Once again the Lady Bucs had difficulty scoring throughout the game and lost 43-23. CLICK HERE for full game stats. Those two losses concluded the tournament run for the girls. They finished the year with a regular season record of 18-12 and finished 10-4 in their division. In addition, the Lady Bucs finished 1st place in the regional tournament. The team says goodbye to their graduating senior, Tori Franciosi.
KVAK Sports Shorts is brought to you by our local sponsors:
MVP Sponsors
Subway, Prospector, Napa, Harris Sand and Gravel, Valdez Native Tribe, and Foothills Dentistry
Other Sponsors
Crowley Petroleum, Safeway, Eagles Order 1971, Innovations Hair Design, Copper Valley Telecom, Sound Realty, Conoco Phillips, and Arts Design