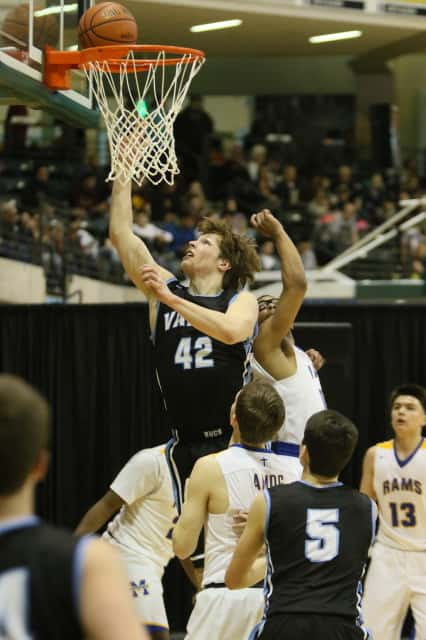 Seth Auble takes it to the hole during State Tournament Game.
Auble was named to the State All-Tournament Team.
The boys varsity team competed in 3A State Tournament this past weekend. The Bucs first game of the tournament was against the ACS Lions. Valdez stayed in control for most of the game outscoring the Lions in three of the four quarters, ultimately winning the game 68-56. Sophomore Logan Heckathorn was the standout offensive player for Valdez during the game leading the team in scoring with 17 points.  CLICK HERE for full game stats.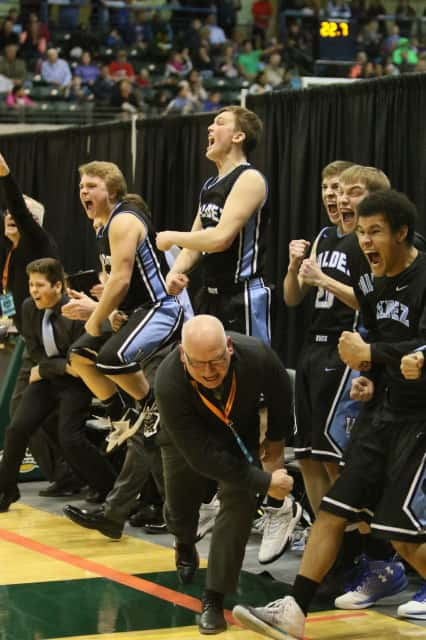 Boys Basketball Coach Todd Wegner and the VHS bench celebrates a good play at the State Tournament in Anchorage.
On Friday, the Bucs competed against the Monroe Catholic Rams for a spot in the championship game. The Monroe defense held Valdez scoreless for the whole first quarter. In the second quarter the Bucs rallied back and ended the half with a score of 20-14 with Monroe leading. Going into the next half, Monroe was able to extend their lead to 31-22 going into the final quarter. Once again the Bucs responded with another scoring run where they had a two point lead over the Rams in the final minutes of the game. After some back and forth action from the teams in the final seconds of the game Monroe had a two point lead over Valdez. The Bucs received the ball for the last possession of the game for a chance to tie the game, but Monroe stole the ball on the inbound pass to win the game 42-40. With that loss, the Bucs played Saturday for their final game of the tournament. CLICK HERE for full game stats.
On Saturday, Valdez played the Barrow Whalers for 3rd place. After an even first two quarters of play, Barrow had a 27-25 lead over Valdez at the halftime. In the third quarter, the Whalers outscored the Bucs 19-11 and had an eight point lead going into the final quarter of play. In the final minutes of the game, Valdez went on another scoring run to try and close the gap. In the final seconds the Whalers were able to hold off the Bucs and won 57-56. That loss gave Valdez a 5th place finish for the tournament. At the conclusion of the tournament, Seth Auble was selected to the All-Tournament Team. The Bucs finish their season with a record of 20-8, and 10-7 in their conference. In addition, the boys received 2nd place in the Valdez Elks Tournament, as well as 2nd place in the regional tournament. The team now says goodbye to their graduating senior, Seth Auble. CLICK HERE for full game stats.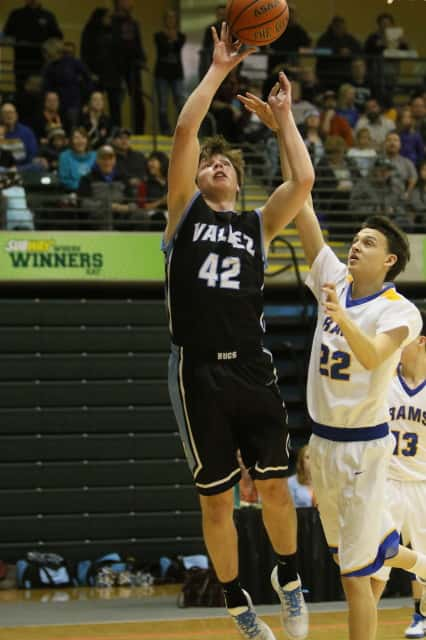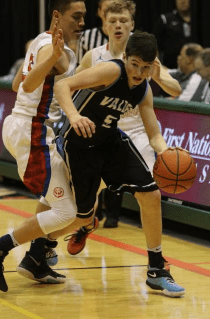 VHS Boys State vs Sitka
KVAK Sports Shorts is brought to you by our local sponsors:
MVP Sponsors
Subway, Prospector, Napa, Harris Sand and Gravel, Valdez Native Tribe, and Foothills Dentistry
Other Sponsors
Crowley Petroleum, Safeway, Eagles Order 1971, Innovations Hair Design, Copper Valley Telecom, Sound Realty, Conoco Phillips, and Arts Design