CLICK HERE TO VIEW BOYS STATE TOURNAMENT BRACKET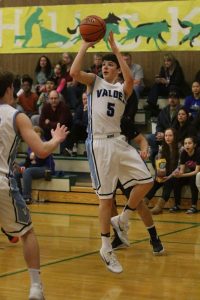 Pictured above: Logan Heckathorn going up for the shot during the regional tournament this past weekend
The boys varsity team competed in the Aurora Conference regional basketball tournament in Delta this past weekend. The Bucs first game of the tournament was against the Galena Hawks. Valdez was dominant for most of the game outscoring the Hawks in each of the quarters, ultimately winning the game 61-36. Sophomore Bennett Hinkle was the standout player for Valdez during the game scoring 15 points and recording six steals for the game. With that victory, the Bucs played the Delta Huskies later that day. The Bucs started the game hot, outscoring them 16-9 in the first quarter. They went on to outscore the Huskies 25-10 in the second quarter and Valdez led 41-19 lead at the half. The Huskies were never able to recover and Valdez won 66-50. Valdez was led by sophomore Bennett Hinkle who scored 20 points and senior Seth Auble who scored 19 points and grabbed 12 rebounds.
On Friday, the Bucs competed against the Monroe Catholic Rams in the championship game. After a closely contested first half, the Rams came out with a small 25-22 lead at the end of two quarters of play. Throughout the course of the game, Monroe maintained their lead and were able to stop Valdez during a last minute key run in the fourth quarter to win 47-42. With that loss, the Bucs played Saturday for 2nd place and the final spot at the State Tournament.
On Saturday, Valdez played the Eielson Ravens for 2nd place. At the end of the first quarter Valdez led 14-12. In the second quarter Eielson had a small run and went into halftime with a 29-25 lead. In the third quarter, the Ravens went on another run and had a nine point lead going into the fourth and final quarter. In the fourth quarter the Bucs turned up their defensive pressure and went on a 21-4 run to close out the game. Valdez won with a final score of 55-47. With that victory the Bucs finished the tournament in 2nd place. They will now go on to the state tournament which is scheduled for Thursday, March 23rd through Saturday, March 25th at the Alaska Airlines Center in Anchorage. The boys first game will be Thursday against the ACS Lions at 3:30pm.
KVAK Sports Shorts is brought to you by our local sponsors:
MVP Sponsors
Subway, Prospector, Napa, Harris Sand and Gravel, Valdez Native Tribe, and Foothills Dentistry
Other Sponsors
Crowley Petroleum, Safeway, Eagles Order 1971, Innovations Hair Design, Copper Valley Telecom, Sound Realty, Conoco Phillips, and Arts Design