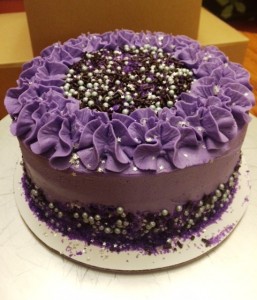 Tune in to bid on fabulous homemade delicacies.
Listen on KVAK Radio at 93.3FM, 1230AM, or listen live at KVAKRadio.com.
To see a preview of the cake list, see below.  Pictures of cakes will be added Thursday morning. Proceeds will benefit Valdez kids in Foster Care. Girl Scout Troop #272 will have a bonus item at the end of each round to help them raise funds for summer camp registration.
For Information On Foster Care See Below
www.fosterclub.com
dhss.alaska.gov/ocs/Pages/fostercare/
adoptuskids.org
Round 1
1.  Peanut Butter Chocolate Cake
Baker: Becka Mumma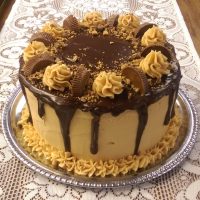 Your own personal escape into paradise….  luscious chocolate cake,  layered with real Reeses cups along with a rich peanut butter frosting, and topped off with additional peanut butter frosting + drizzled with a  savory chocolate ganache. Rich and savory, luscious and smooth   – this cake is a little bit of heaven made just for you.
**SOLD**
2.  Blackberry Lemon Cake
Baker: Audrey Richardson (Bower)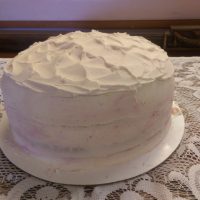 Luscious yellow cake layered with a sweet blackberry jam and a savory lemon buttercream frosting. So good, one piece will definitely not be enough.
 **SOLD**
3.  Sugar'n'Spice & Everything Nice!
Baker:  Gianna Giusti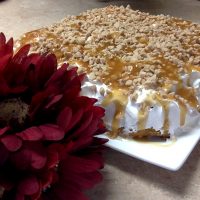 Sugar'n'Spice and Everything Nice will bring you much delight! A properly whipped spice cake mix with pumpkin puree, baked to perfection and smothered with condensed milk. Topped with fluffy cool whip, drizzled with caramel sauce and sprinkled generously with Heath Bar pieces. This is a dessert you will surely want to eat first!
Ingredients:  Spice Cake Mix, Pumpkin Puree, Heath Bar,  Cool Whip, Caramel, Condensed Milk
 **SOLD**
4.  Polar Bear Cake
Baker: Jennifer Ditman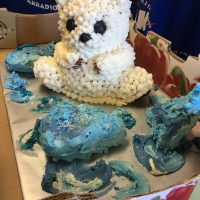 A tantalizing cake sure to captivate all your senses!  A mouthwatering chocolate & vanilla cake topped with butter cream frosting and a scene straight from Alaska itself….a  serene polar bear floating amongst icebergs!  But don't  let the incredible sight distract you – dig in for a little peace of heaven!
**SOLD**
5.  Peach Cake
Baker: Connecting Ties
CAKE NOT AVAILABLE

6.  * Girl Scout Winter Wonderland Cake
Baker: 9 year old Kelsey Prax from Girl Scout Troop #272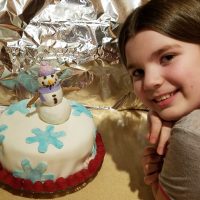 A decadently delicious homemade vanilla pound cake with a sweet raspberry vanilla custard filling and topped with a light buttercream frosting.  So good you might cry when it's all gone…
**SOLD**
---
Round 2
7. Strawberries N' Cream Cake
Baker: Jamie Arcinega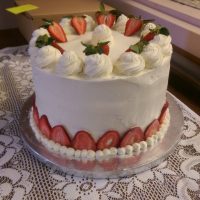 A lusciously moist strawberry cake with a cheese cake center and topped with whipped cream frosting and fresh strawberries!
SOLD

8. Jan Hagel Cookies (Traditional Dutch Cookies) (1 dozen)
Baker: Marjorie Pleiss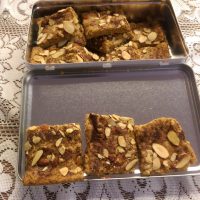 A Jan Hagel is a traditional Dutch cookie, normally served at Christmastime and can be traced back as far as the 17th century. Think of the cookie as a shortbread cinnamon cookie, with almonds on top. My father and husband enjoy the cookies with their morning coffee while my Oma likes hers with vanilla ice cream. This recipe was handed down to me from my Oma and her people have always been bakers. During and prior to WWII they had a bakery in the Netherlands and smuggled rationed food to the Jews under close scrutiny by the Nazis. When I bake them, that's the story that comes to me.
Ingredients:  Butter, Sugar, Egg(s), Flour, Baking Powder, Cinnamon, Almond
 SOLD

9. Gluten free Vegan KeyLime Pie (Dairy & Egg Free)
Baker: Emily Skilbred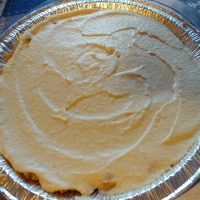 Tart and refreshing key lime pie is a perfect addition to any frosty fever party… or you can keep it and eat it all by yourself! This concoction is made with a gluten free graham cracker crust and a basis of cashew milk which is creamy and delicious while still catering to those with allergies to gluten, dairy, and eggs. Don't let the description of no gluten, dairy or eggs deceive you –  it is still scrumptious!
SOLD
Ingredients:  FILLING – Raw Macadamia Nuts, Almond Milk, Pure Key Lime Juice, Raw Agave Nectar, Vanilla Extract, Coconut OiL.   CRUST –  Gluten Free Graham Cracker (corn starch , brown sugar , corn flour , palm fat , soy flour , soy bran , honey , modified tapioca starch , leavening agent , baking soda , salt , caramelized sugar . Contains: Soy . May contain traces of lupine . May contain traces of coconut),
Vegan Buttery Spread, (Vegetable Oil Blend (Palm Fruit, Canola Safflower, FLax and Olive Oils), Water, Contains Less than 2% of Salt, Natural Flavor, Pea Protein, Sunflower Lecithin, Lactic Acid (to Protect Freshness), Annatto Extract (Color))
10. Mardi Gras King Cake
Baker: Sherikay Griffith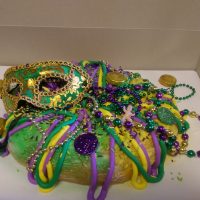 Laissez le bon temps rouler (Cajun French phrase for the "Let the good times roll" often used during Mardi Gras). Authentic from the bayou . A strawberry and cream cheese filled  sweet bread king cake.  Complete with Mardi Gras swag.
Ingredients: Sweet dough filled with fruit and cream cheese.
 SOLD
11. Carrot Cake
Baker: Julie Lindemann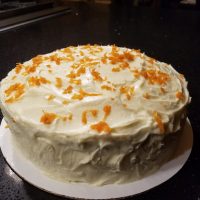 A savory homemade carrot cake – so good, it's sure to make your year.
 SOLD
12.  * Girl Scout Dreamcicle Cake
Baker: Carlie VanBuskirk & Grandma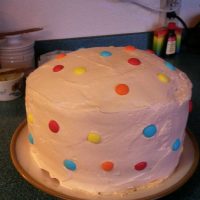 A heavenly cake homemade by Girl Scout Carlie Vanbuskirk & her grandma.  Creamy white filling between four layers of sweet orange cake. Frosted with a delightfully scrumptious fluffy orange frosting.  100%  Kid Approved!
SOLD
---
Round 3
13. Vanilla Ombre Soda Cake (Oil & Egg Free)
Baker: Aleshia Cranor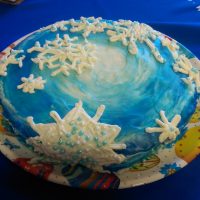 This delicious cake is made from a French vanilla cake mix and a can of cream soda. No oil or eggs added.  In the spirit of Frosty Fever, this cake is frosted in an icy blue ombre with homemade white chocolate snowflakes.
SOLD
14. A Little Bit of Heaven Chocolate Bundt Cake (Egg Free)
Baker: Megan Bauman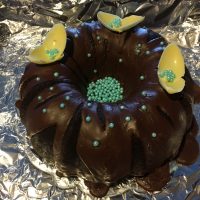 If nothing delights you more than rich & decadent chocolate desserts than this is the cake for you.  Savory, light & moist this chocolate bundt cake is topped with a divinely rich chocolate ganache.  So gratifying you are sure to find yourself on cloud nine with every bite.  (Baker not responsible for any "non-sharing" feelings generated by said cake) 

SOLD

Ingredients include (but not limited too) flour, evaporated milk, cocoa powder, yogurt, canola oil, sugar, vanilla extract and lots & lots of mouthwatering chocolate,  *Egg Free*
15. Gluten Free Vegan Banana Cream Pie
Baker: Emily Skilbred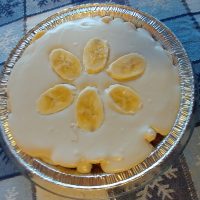 Twist on a classic favorite, it tastes like a tropical heaven with coconut and Banana top notes. The almond and oat pie crust crumbles in your mouth & contrasts perfectly with the creamy texture of the filling. Made Gluten, Dairy, & Egg FREE so you can share with your allergic friend with no worries!
Ingredients:  CRUST – gluten free rolled oats, raw almonds, sea salt, organic cane sugar, coconut oil
FILLING – cornstarch, organic cane sugar, sea salt, unsweetened plain almond milk, pure vanilla extract, Banana, Coconut Cream, Organic Powdered Sugar
 SOLD
16. Lovin' From the Oven Cinnamon Rolls
Baker: Suzie Hill Koklich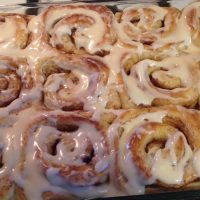 Delivered to you READY TO BAKE so you can enjoy them right from the oven. These rolls are made with a traditional sweet dough, loaded with butter, cinnamon, sugar and a little special *something* extra to set them apart. You will also receive a container of creamy delicious frosting made from a dab of cream cheese, powdered sugar, cream and vanilla to top them with off when they are hot out of the oven.
Ingredients: White flour, yeast, sugar, eggs, salt, butter., cream, cinnamon.  Cream cheese, powdered sugar,, vanilla, cream, salt & LOVE.
SOLD

17. Old Fashion Strawberry Vanilla Cake
Baker: Jessica Watson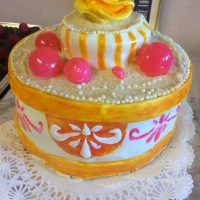 For a true taste of bliss, look no farther than this old fashioned cake made from my Grandmother's personal recipe.  Light & delicate strawberry filling between two layers of fluffy strawberry vanilla cake and topped with her favorite "light white" old fashion custard frosting, along with elegantly edible sugar bubbles and flowers.
 SOLD
18.Chocolate Raspberry Brownies
Baker: Julie Lindeman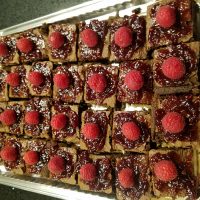 A perfect blend of sweet raspberries and luscious chocolate, these moist & cakey brownies are your ticket to summer.
 SOLD
19. * Girl Scout Samoa Cake
Baker: Kristina Roche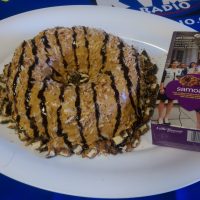 You read that right – you're not dreaming…. A Girl Scout Samoa CAKE.  Chocolate, caramel and toasted coconut….it just doesn't get any better than that.  And did we mention it was magically delicious?
SOLD
---
Round 4
20. Traditional Pineapple Upside Down Cake
Baker: Audrey Richardson (Bower)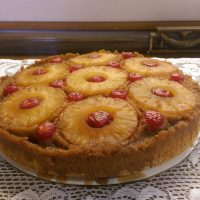 A tried & true traditional Southern delight!  A light and tender cake topped with ooey gooey pineapples and cherries coated with a scrumptious buttery brown sugar glaze.  A dessert impossible not to love.
 SOLD
21. Super Chocolatey Coca Cola Cake
Baker: Agnes Hansen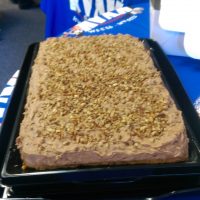 This moist & melt-in-your-mouth chocolate cake hails from the South and is sure to be every chocolate lovers dream.  Topped with a chocolatey, pecan frosting this cake is perfect on its own or topped with a scoop of old fashioned vanilla ice cream.
Ingredients include: Coca Cola, cocoa, buttermilk, flour, eggs, buttermilk  & butter. Frosting contains chopped pecans.
SOLD

22.  Homemade Baklava
Baker: Lisa Martin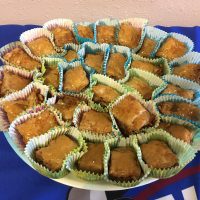 Delicious layers of buttery phyllo dough filled with chopped walnuts and delightfully sweetened with a savory mixture of honey and sugar.    This traditional dessert has ancient roots in both Greek and Turkish cuisines dating as far back as the second century. A rich dessert that melts in your mouth and leaves the whole family happy.
Ingredients:  Phyllo dough, walnuts, butter, cinnamon, water, white sugar, vanilla extract, honey
23.  Spring Carrot Cake
Donated by Valdez Senior Center's Chef Lindsey Barnick


March 20th is the first day of spring, which means budding flowers and baby animals – and here in Valdez, that means baby rabbits!  So in celebration of spring and all things cute and fuzzy, here's a mouthwatering & moist carrot cake made just for you.
Ingredients: Flour, baking soda, salt, cinnamon, eggs, sugar, vegetable oil, buttermilk, vanilla, carrots, pineapple & walnuts
 SOLD
24. *Special Edition* S'Mores Girl Scout Cookies (1 Case!)
Girl Scout Troop #272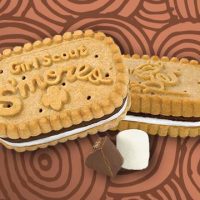 This special batch of Girl Scout cookies was not available for sale during the regular cookie selling season. However, Girl Scout Troop #272 has secret access to an entire case that they want share with you. Inside you'll find 12 boxes of crunchy graham sandwich cookies filled with creamy chocolate and marshmallows (YUM!).   These are sure to make you everyone's best friend (if you're willing to part with them….)
 SOLD
25. GS Thin Mint Cake*
Baker: 9 year old Carlie VanBuskirk from
Girl Scout Troop #272 & Grandma Vernell Sodegren

SOLD