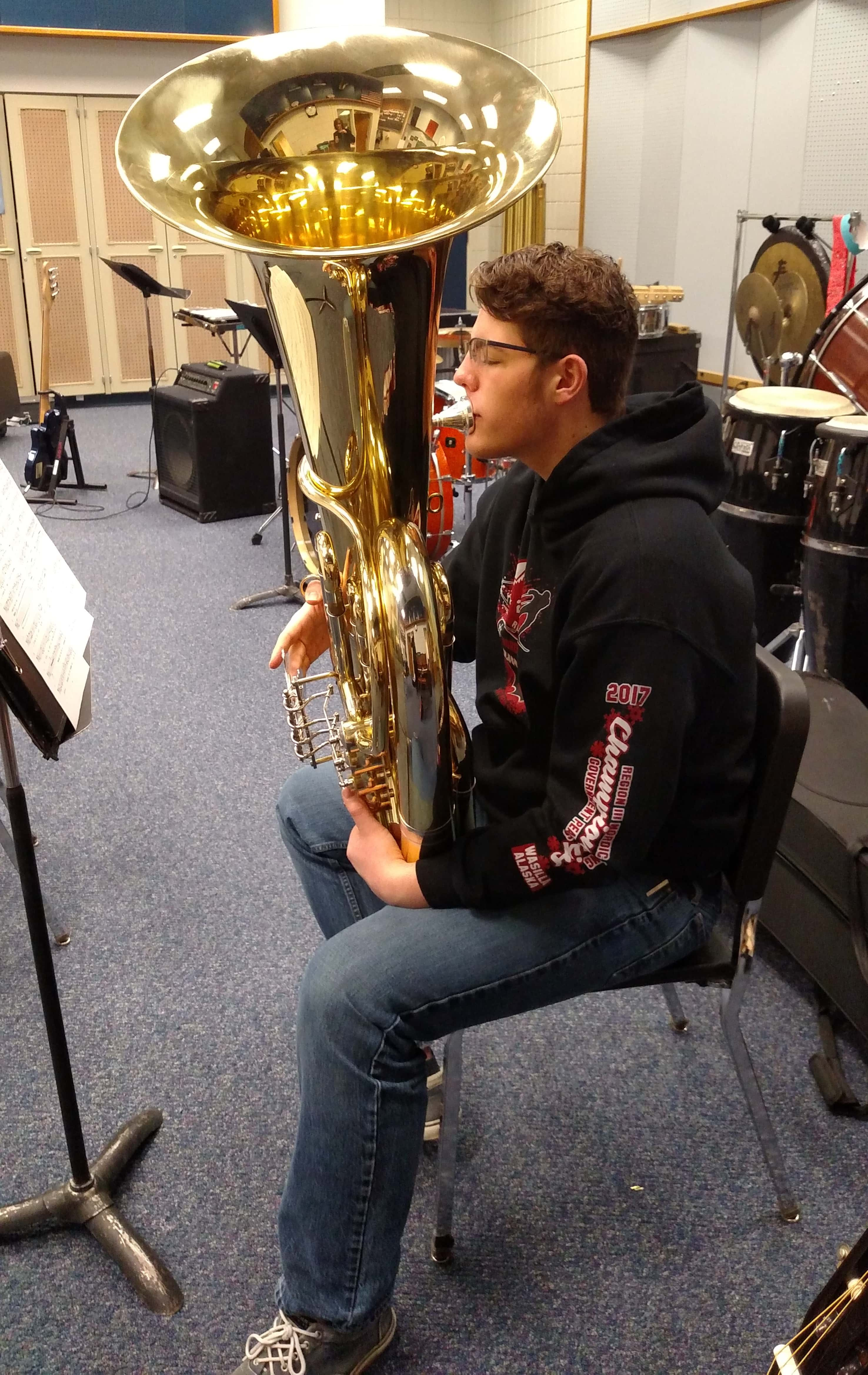 Valdez High School senior, Christopher Cummins, leaves Valdez on Wednesday on an adventure not many have the talent—or the nerve—to claim. But this one is on Chris's bucket list. After a long weekend at the ASAA State Nordic Ski Championships, Christopher and his tuba, Archibald, are heading to New York City for an audition at the Juilliard School of Music.
Christopher's quest for a Juilliard education began in November on paper, but actually many more years ago as a piano student of ling-time teacher, Bonnie Thiel. Christopher began piano lessons then started in the Hermon Hutchens band. He eventually mastered flute, tuba, saxophone, handbells, and whatever other instrument he could find.  He is currently a member of the Jazz and Concert Bands and Choir at VHS. Chris's uncommon talent goes far beyond the instruments and finds its way onto music scores that he creates on his computer late into the night. Chris has composed numerous orchestrations, choral octavos, pep band pieces, and arrangements. 
Juilliard School of Music has an acceptance rate of 6.4%. Even to apply takes time, energy, and guts. Christopher passed the first round of application and was invited to perform a live audition on tuba. The audition consists of performance of a pair of etudes, four orchestral excerpts, and an accompanied solo, one that he arranged for tuba. The audition is on Monday, February 27, at 3pm, EST.
One problem. Traveling with a tuba from Alaska to New York City is no small feat. In fact, Archibald has to have a purchased seat in coach class, right next to Chris. Who gets the pretzels? The expense of the trip is staggering considering the short time frame, so Christopher successfully gathered support on a Go-Fund-Me account within 24 hours of posting.
When asked about what motivated him to try for Juilliard, Christopher replied, "I just wanted to see. Why not Juilliard? It's far from home, but it seems like a nice place."
If accepted following the audition, Chris wants to pursue a degree in Music Performance on tuba. His career goal is to be a film score composer. Maybe he is just a little inspired by well-known film scorer John Williams, a Juilliard graduate.