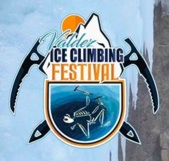 Get ready Valdez!  The 2017 Ice Climbing Festival is coming Feb 17th through 20th.  There are a myriad of amazing events planned and all are invited.  From climbing clinics and competitions, to a 2-day adventure photography workshop, and more.


See video of last year's festival
There will be exciting evening events happening each night of the festival.
Friday night, it's the Welcome Reception and Mountainfilm at the Civic Center.
On Saturday Night, come to a Dance Party with live music by the Unfaithful Lovers.
And on Sunday night, come out to an epic Bonfire Feast with spaghetti, bonfire and DJ. Non climbers rate is $20. The bonfire will be held at Oldtown – take a right off the Richardson highway just before the Valdez Glacier Stream Bridge and look for signs.
You don't have to be an ice climber to enjoy this Festival – the general public is welcome to come out and join the fun. Tickets are available at the door.  To participate in the climbing activities, and for additional information on each event, go online to valdezicefest.com to register.