Source: Valdez Socioeconomic Indicators Report, Executive Summary
Total annual work-related earnings in the City of Valdez are $135.3 million (not including enlisted USCG), generated by:
– 182 firms that in 2014 collectively employed 2,144 people (average annual), whose wages totaled $119.9 million (89% of all work related earnings).
– 336 nonemployer businesses (generally self-employed and small business proprietors) in 2013 whose income was $15.5 million (11% of all work related earnings).
Between 2004 and 2014, total employment wages increased from $94.9 million to $119.9 million (26%). However, measured in inflation adjusted dollars, total employment wages in Valdez are slightly below the level needed to have kept pace with inflation over the last decade. Total wages of $119.9 million in 2014 are about equal to 2004 wages of $122.8 million (in 2014 dollars).
Over the last 10 years the total number of employees (resident and non-resident) in Valdez has been relatively flat, similar to population trends. Looking more closely at annual data, employment was lowest in 2008, coincident with the national recession. From 2008, total employment climbed over 200 workers to a 2014 high point of 1,604 total employees.
Growth in private sector jobs has fueled increased employment since 2008; federal (civilian) jobs declined during this period.
For the Valdez-Cordova Census Area, 40% of all workers (3,048) in 2013 were non-residents and 19% of total worker wages ($42.2 million) in the census area went to non-residents. Over one-fifth of the non-resident workers in the following four sectors spent 9-12 months living in the Valdez-Cordova Census Area:
– Information (NAICS 51)
– Professional, Scientific, and Technical Services (NAICS 54)
– Others Services (NAICS 81)
– Public Administration (NAICS 92)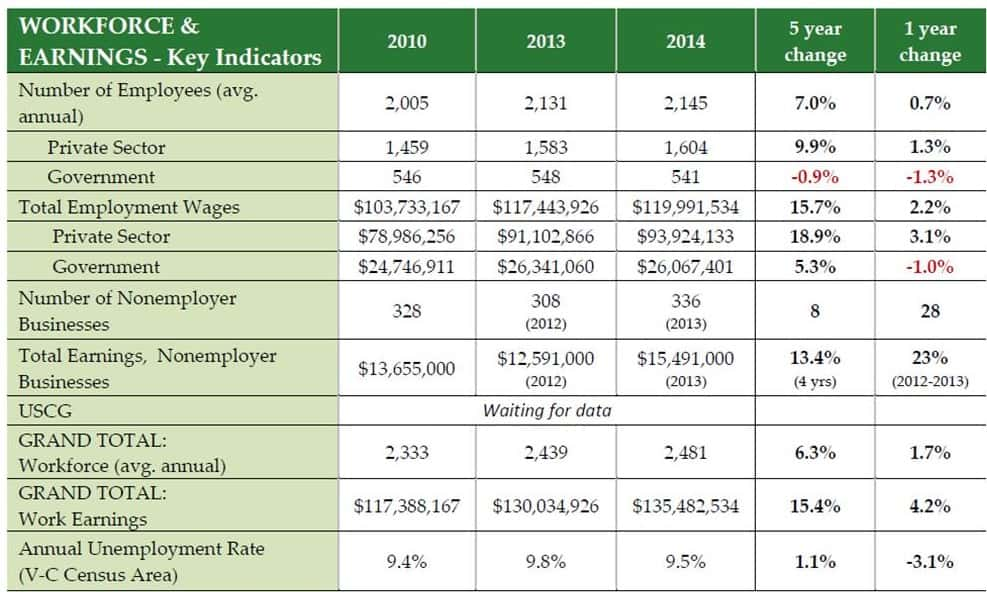 Sources: ADOLWD 2014 QCEW, US Census 2013 Nonemployer Statistics