There are an estimated 1,750 dwelling units in Valdez today, including 107 in
group quarters.
The median price for homes in Valdez is 36% less than the statewide median, but median rents are
10% higher.
Several factors combine to tighten the Valdez housing market and reduce available housing choice:
– The number of dwelling units being constructed per year in Valdez has declined sharply
over the last 15 years; from an average of 29 per year during 2000-2002, to 11 per year in
2003-2011, to 4 constructed per year during 2012-2014.
– The decrease in new construction creates an aging housing stock and limits housing options
for buyers and renters.
– Over the last five years, the average household size for both owner and renter occupied
housing has increased.
– Compared to Alaska, median home prices are rising faster in Valdez.
– Over one-quarter (28%) of the Valdez housing stock are mobile homes. This is a higher rate
than in Alaska (5%) or the rural U.S. (7%). An immediate housing crisis facing the city is the
pending August 2016 closure of the 60-unit Aleutian Village Trailer Park, leaving park
residents with few alternatives for affordable housing.
– Realtors report that high property tax rates discourage home purchases by retirees looking
for summer homes and first time home buyers.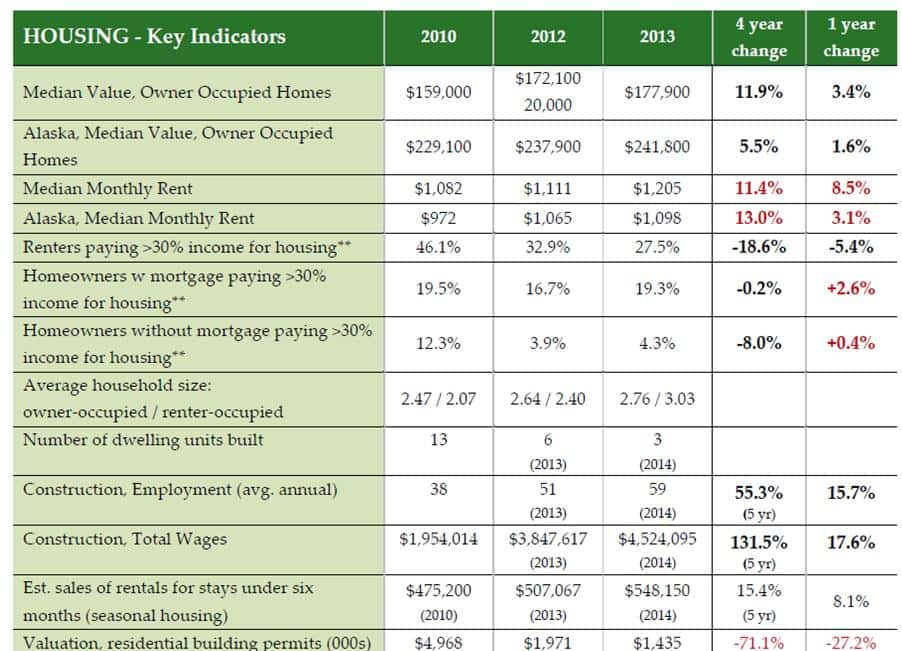 Sources: City of Valdez – # Housing Units, building valuation; Est. rental sales for stays under 6 months -Sheinberg Associates estimates based on bed tax collected; All other data – Sequential 5-year American Community Surveys (ACS).
** ACS – The margin of error for these estimates is sizable. For 2013 for renters it is +/- 23.5, for owners without a mortgage it is +/- 10.9, and for owners with a mortgage it is +/- 17