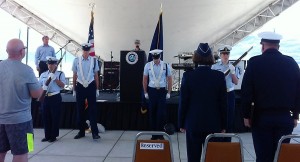 Last weekend was Military Appreciation Weekend in Valdez. Military personnel from around the state participated in various events.  A Military Appreciation Ceremony was held Saturday and three Valdez veterans were recognized.  Honor Awards were given to Sergeant Major Jeff Koontz, Petty Officer First Class Charles Sasse, and Sergeant Edward "Mike" Meller.  None of them knew ahead of time they would be recognized and were surprised to be honored on this occasion.
The Ceremony included the Presentation of Colors by US Coast Guard Valdez.
SEE PROGRAM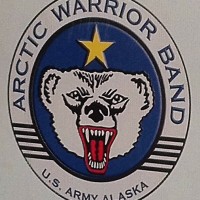 Many people made it out to the community events with over 1,200 people served on Saturday at the Fish Fry and over 500 served at the Community Picnic on Sunday.  Music was provided by the 9th Army Band.
Active Duty service members from JBER, Ft Greeley, Ft Wainwright, and Eielson, along with US Coast Guard Valdez were able to participate in various activities.  Around 65 had the opportunity to go fishing, filling 13 boats with all but one limiting out.