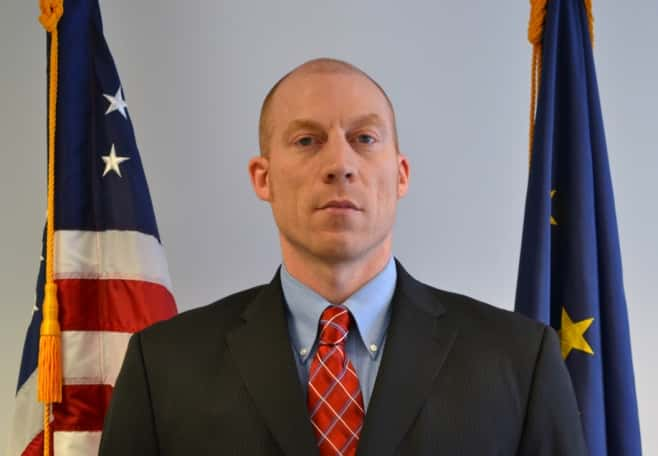 City Manager Dennis Ragsdale appointed Lieutenant Bart Hinkle as Valdez Chief of Police Thursday to replace departed Chief William Comer.
Lt. Hinkle's internal promotion is effective following the reinstatement of the Chief of Police position into the Alaska Public Employees Retirement System (PERS).
Lt. Hinkle is a graduate of the FBI Hazardous Devices School (2003), the ILEA School of Police Supervision (2007), and the 239th session of the FBI National Academy (2009). He holds a Masters of Science Degree in Criminal Justice from the University of Cincinnati (Cincinnati, OH) and a Bachelors of Arts Degree in Business Administration from Lindenwood University, (St. Charles, MO).
Born in Fairbanks and raised in Salcha, Lt. Hinkle began his public safety career with the Valdez Police Department (VPD) in July 1999 after an initial career as an accountant for an accounting firm in Anchorage.  After hiring on with the Police Department, Lt. Hinkle attended the Alaska Law Enforcement Training Academy (ALET) in Sitka, graduating from class #22.
During his tenure with the Valdez Police Department, Lt. Hinkle served in the capacities of Patrol Officer, Patrol Sergeant, Investigator, First Sergeant and Lieutenant.  Lt. Hinkle received advanced training to include special weapons
and tactics, crime scene reconstruction, post-blast investigations, death and homicide investigations, financial crimes investigations, instructor development, and the Incident Command System, as well as computer and cell phone forensic examinations.  To date, Lt. Hinkle amassed over 1,000 hours of advanced public safety training.
Lt. Hinkle headed many major policy and institutional changes led all operational units within the Valdez Police Department including patrol, investigations, jail and dispatch.  He spearheaded significant efforts to modernize the VPD's operational procedures, which included many adjustments and efficiencies addressing how officers conduct daily operations, prepare reports, collect evidence, and investigate offenses.  Additionally, his individual efforts ensured VPD became a member of the Alaska Internet Crimes Against Children (ICAC) Task Force, allowing the Department to establish a Cyber Crime lab enabling forensic investigation of electronic devices.  He was also responsible for the implementation of a mass notification system (NIXLE), for which he, on behalf of the VPD, received the Copper Valley Telecom Business Technology Award.
He currently serves as Secretary for the Valdez Consortium Library Board of Directors, as well as Treasurer for the Valdez Youth Court Board of Directors, and is a member of the FBI National Academy Associates (FBINAA), Alaska Association of Chiefs of Police (AACOP), Alaska Police Officers Association (APOA), and International Association of Chiefs of Police (IACP). He is in his 3rd year as an adjunct instructor at Prince William Sound College, where he teaches Introduction to Criminal Justice and Introduction to Criminal Investigations.
Lt. Hinkle coached youth basketball for a number of years and serves as the assistant varsity coach of the 2015-2016 Valdez High School boys basketball team. He lives in Valdez with his wife, Ana, and their three children:  Aidan, Bennett, and Carsyn.
In 2007, the Valdez City Manager removed the Chief of Police position from participation in the Alaska Public Employees Retirement System (PERS) due to the difficulty experienced at the time recruiting and retaining qualified candidates. By contracting with the retiring Chief of Police, the City benefitted in retention of a valuable, high-ranking public servant and was no longer mandated to pay the PERS employer contribution for that position.
Today, PERS is a valuable recruiting tool for the City, used to attract qualified candidates in mid to late career but pre-retirement. Continued exclusion of the Chief of Police position from PERS would be a detriment to recruitment of highly qualified officers who already belong to the PERS system. Alaska State
Statute 39.35.615 requires adoption of a resolution by the governing body of a political subdivision to amend its PERS participation agreement. A resolution to reinstate the position into PERS will appear before Valdez City Council during their February 2, 2016 regular meeting.
Posted January 29, 2016
Allie Ferko, Public Information Officer, City of Valdez