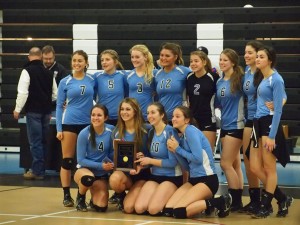 (11-09-15) – This past weekend Valdez was host to the 2015 Aurora Conference Volleyball Tournament and the hometown Lady Buccaneers took 1st place. As Regional Tournament Champions, the Lady Buccaneers will travel to the state tournament this weekend. The tournament will start Thursday and end Saturday. The Lady Bucs will play their First game Thursday at 1:30pm at the Alaska Airlines Center against the Homer Mariners. Valdez is going into the tournament as one of the number one seeds.
The Lady Bucs came into the tournament as the number two overall seed. On Friday, Valdez had their first match against the Eielson Ravens. Valdez dominated, sweeping the Ravens. They advanced to the 2nd round and faced their biggest competition, the number one seed, Monroe Catholic Rams. The Lady Bucs had great momentum from their strong win over Eielson the previous day that carried over to their 10am game against the Rams. The Bucs were in control the whole match and at one point made a 13 – 2 run in the third and final game of the set. With the victory over Monroe, The Lady Bucs advanced to the championship game.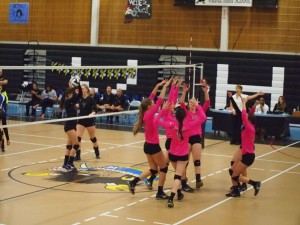 As the Lady Bucs waited to see who they'd be playing for the championship game, the Monroe Rams fought their way back into the championship game with a win over Eielson. This set up a rematch between the top two teams in the region. Valdez struggled in the Championship match against the Monroe Rams. The two battled it out in five close games. Valdez lost the match 3 to 2. Since it was a double-elimination tournament, the Bucs had a glimmer of hope. In the final game Valdez rallied, played more cohesively as a team, and easily sealed a 30 to 10 victory.
VHS seniors Madeline Hogarth, Zoe Langseth, Maddy Fleming, Mesa Rohrer were all selected to the tournament All-Conference team. The sportsmanship award was given to senior Jessi Cox. In addition, sophomores Jane Sharrai and Mackenzi Mott and freshman Linnea Langseth were all selected to the Honorable Mention team.